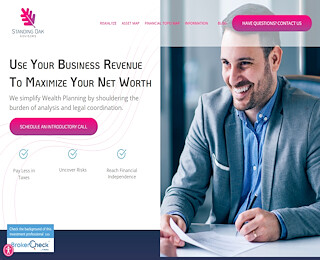 Drafting a business plan is one of the best things you can do at the start of your small business. Why? A good business plan helps the small business owner avoid pitfalls and defines what success looks like. Once your business is established, a financial planner for your small business will continue that benefit by helping you define future financial success. Running a small business requires the business owner to wear a lot of hats, it is easy to get distracted with the sheer number of tasks at hand. Utilizing subject matter experts like accountants, CPAs, attorneys and financial advisors allows you to focus time on your business. They shoulder the burden of analysis, so you can identify outcomes that are ideal for your situation. A small business financial advisor will identify financial pitfalls, identify risky endeavors, and prepare the business to take advantage of opportunities as they arise. Ideally, this allows you to manage your business operations and prepare for future growth.
Should You Work with A Business Financial Planner?
A small business financial advisor in Orange County will assist in identifying and implementing strategies to build wealth, anticipate cashflow events, prepare for uncertainty in the market, and plan for business exit. A strategic financial advisor who specializes in working with small businesses is better prepared to help you avoid mishaps and complications that can cost you money and time.
How We Craft Effective Financial Business Plans
No one size fits all plan will work for all businesses. The following topics highlighted below are some of the major issues that can provide financial stability.
Maximize your capital
Small businesses often face capital limitations. The cost of capital can limit the usefulness of borrowing. Identifying uses of capital and approximate returns can help make the most of available assets. Standing Oak Advisors' planners have a solid understanding of financial systems and have connections with industry professionals that can help you maximize your capital opportunities, identify the best way to grow capital, and improve financial strategies in a business.
Manage The Balance Sheet
The balance sheet is a document that contains a list of your liabilities, assets, and equity. Why does it matter?
Knowing the numbers of every category in the balance sheet allows you to know your business' value, efficiency and limitations. This allows you to create a sufficient buffer for emergencies and prepare a business plan that will expedite and maintain positive growth. While Standing Oak Advisors doesn't actively manage your balance sheet, we do analyze and work with your financial team to identify better ways to manage your business finances and expenses.
Additionally, we can help you identify additional professionals that could bring value to your team.
Protect Your Cashflow
Many small businesses fail because they do not know how to effectively manage finances. Too often we see entrepreneurs spend more than they can afford in their business and end up in a financial hole that requires personal finances to bail out the business.
Our financial planning for business owners in Orange County helps define one's future goals, find out how much your business can afford to spend, the actual money you should cycle back into investments and reserves to meet your business and growth goals.
Financial planning is a broad and deep subject covering everything from starting up the business to setting up a retirement and succession plan. Ideally, your finances are driving toward specific goals. We all know business doesn't run smoothly, but if can be efficient and effective. Contact us online to book a personalized consultation to discuss our approach to small business financial planning and how we can help with your unique situation.
Disclaimer:
​Investment Advisory Services offered through Newport Wealth Advisors, (NWA) a CA Registered Investment Advisor. Securities offered through Centaurus Financial, Inc. a registered broker/dealer and a member FINRA and SIPC. This is not an offer to sell securities, which may be done only after proper delivery of a prospectus and client suitability is reviewed and determined. Information relating to securities is intended for use by individuals residing in CA. Centaurus Financial Inc., Newport Wealth Advisors Inc., and Standing Oak Advisors are not affiliated companies.
Standing Oak Advisors
714-451-8216
1440 North Harbor Blvd.
Fullerton
CA
92835
View Larger Map
We welcome your comments!