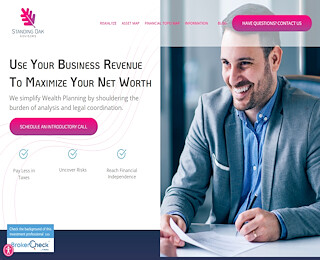 Growing a business is tough without our current market and economic forces. Running a successful and profitable business requires a great amount of knowledge, energy and effort to stay ahead of competition and become, or remain, profitable.  Standing Oak Advisors is confident that we can provide a competitive advantage in comparison to typical financial advisor.
Choosing Standing Oak Advisors for your wealth planning in CA can help to grow your business' value. Our approach is unique to small business. We work to increase profits through streamlining liabilities and finding new opportunities to maximize the value of existing cash flow. We identify ways to improve the transition of business profits to personal assets. A small business owner's net worth is rarely focused on stocks and bonds, we help analyze an assortment of assets from existing real estate to private equity. Most importantly, we help small business owners chart a path to identify what an eventual succession or exit plan looks like. Ultimately, each case is unique. We have a number of tools at our disposal and understand that not every tool is needed for every job.
What We Do to Maximize Your Capital Wealth Planning in Orange County 
Streamline Expenses and Improve Your Bottom Line
Ben Franklin's quote, "A penny saved is a penny earned," is rightly famous. It brilliantly summarizes the idea that savings can be more potent than additional revenue to the bottom line. Fortune 500 companies regularly audit costs to make sure vendors are following the agreed to rates in contracts. However, small businesses find it hard to follow suit. More often than not, they can't find someone to help with the process.
Beyond savings, avoiding the loss of key employees is paramount to success. We help employers create golden handcuffs for their people. You can't eliminate the loss of every key person, however, stretching out the time they stay helps a business owner maintain momentum.
Finding New Opportunities
Often there are new opportunities hiding right beneath the surface, but, "Where to look?" We've made a career out of identifying tax rebates, tax credits, utility credits, tax loopholes (i.e. deferring taxes), etc. Whether its an efficient exit strategy or a long term cash flow strategy focused on growth, we can create opportunities where there seemed to be none.
Setting Long-Term Goals 
Long-term goals give you the ability to analyze if your ahead or behind. They help to keep the business owners and financial team on the same page. In our financial planning efforts, we outline your goals, whether it's reducing taxes, finding additional revenue streams, or creating an exit plan, we've helped many business owners through these questions and charted a path to meet these goals.
Manage Multiple Assets 
Many business owners and organizations have a variety of investment assets; overseeing them can be challenging. Standing Oak Advisors can help you identify risks and returns associated with those assets. Our strategic wealth management service can help you decide which assets are serving your goals and which assets could be improved. Keeping investments clear and organized give an owner the best chance to maintain a good ROI and identify future opportunities to improve their investment experience.
Our team brings together years of experience, industry knowledge, and a focus on working alongside business owners. Most of our capital wealth planning strategies in Orange County will vary according to each business we're working with, which means each client and project will require a different approach and strategy. In our experience, it helps to discuss your unique situation; get in touch with us for more information on our wealth planning services.
Disclaimer:
​Investment Advisory Services offered through Newport Wealth Advisors, (NWA) a CA Registered Investment Advisor. Securities offered through Centaurus Financial, Inc. a registered broker/dealer and a member FINRA and SIPC. This is not an offer to sell securities, which may be done only after proper delivery of a prospectus and client suitability is reviewed and determined. Information relating to securities is intended for use by individuals residing in CA. Centaurus Financial Inc., Newport Wealth Advisors Inc., and Standing Oak Advisors are not affiliated companies.
capital wealth planning Orange County
Standing Oak Advisors
714-451-8216
1440 North Harbor Blvd.
Fullerton
CA
92835
View Larger Map
We welcome your comments!