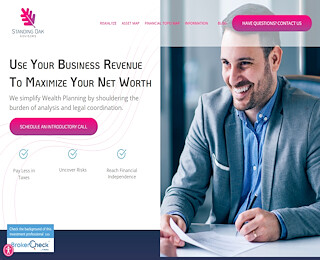 Small business financial advisors provide business owners the necessary guidance to make informed value decisions. Business owners must focus on specific challenges and complications; their ability to handle every possible challenge affecting the business is limited, if not impossible. An experienced professional financial advisor like the team at Standing Oak Advisors, can help increase the value of current operations. Their expertise will allow a business owner to maximize the value of their time and zoom in on the most critical issues. Read along to understand more about the role advisors play in your business.
Value Of a Professional Financial Advisor 
Reviewing tax on a forward-looking basis
Reviewing vendor invoices for discrepancies, unnecessary costs, and/or missing rebates
Identifying leaks through balance sheets and P&L reports
Recommend financial services to maximize value of operations and cash flows to accomplish stated goals
Charting a long-term course toward financial independence
Recommend transfer strategies to maximize the value of funds transferred from the business to the owner
A competent financial advisor for businesses will have a process to create a custom and comprehensive set of recommendations. We utilize the ICARUS process.
Investigate – Have a discussion via Zoom to confirm that this will be a good use of your time
Collect – Identify and collect data necessary to do understand financial situation
Analyze – Utilize state of the art technology to project the financial value of decisions made today
Report – Inform the business owner(s) of potential outcomes in an effort to help them make decisions
Unify – Upon making a decision, unify the tools/assets of the owner(s) and company toward centralized goals
Service – Like any strong tree, a financial plan needs pruning and caring to attain its true potential.
In the end, the best financial advice is cultivated through a strong understanding of internal operations and financial goals to be accomplished. The following is a summary of how we at Standing Oak Advisors go about transforming your business with a detailed financial planning system.
Specific Areas a Financial Expert Brings Value
Manage Specific Employee Benefits 
Employee benefits make a considerable part of a business' expenses, which means they have the potential to make or break your ROI. A financial advisor pays attention to how they can improve your employee benefits by looking at the fine print of your employee benefits plan. Some things to consider include:
Utilizing benefits that retain employees
Managing benefits used to maximize owners' value through tax savings
Reviewing existing structures to illuminate hidden fees
Assist With Designating Better Business Goals 
Perhaps the financial advisor's singular most important role is defining goals. Goals need a cost and timeline. Too often goals are vague and undefined. Clarity allows ownership to focus on a point and drive toward it. That clarity allows an advisor to combine a goal with a trust, corporate, or tax structure. That structure then dictates the best tools to accomplish said goal within the structure. Finally, along the way, we manage the allocation of those assets and maintain a balanced amount of risk reasonable for ownership's tolerance.
Evolve Corporate Structure to Reach the Next Stage
At times, business owners will expand to such a degree that their current business structure requires change. At Standing Oak Advisors, we can help you identify when those moments are here. We have professional relationships with lawyers and CFO's. These relationships allow us to help manage debt, identify legal structures, make the most of cost basis, etc. We've helped many business owners navigate these situations in the past. Our financial planners allow you to stay focused on your business; we do the technical work and walk with you through different challenges as your business expands.
Choosing your Business Financial Advisor in Orange County 
Our ultimate goal is to strengthen our clients' business with seamless financial advice that helps them adapt to different situations. Look no further if you are searching for a team to simplify the complications of minimizing wasteful liabilities, navigating changing tax laws, endless investing options, and mapping the course forward. Setup a consultation with our small business financial advisors. We love helping business owners make the most of their cash flow so they can hit their financial goals faster.
Disclaimer:
​Investment Advisory Services offered through Newport Wealth Advisors, (NWA) a CA Registered Investment Advisor. Securities offered through Centaurus Financial, Inc. a registered broker/dealer and a member FINRA and SIPC. This is not an offer to sell securities, which may be done only after proper delivery of a prospectus and client suitability is reviewed and determined. Information relating to securities is intended for use by individuals residing in CA. Centaurus Financial Inc., Newport Wealth Advisors Inc., and Standing Oak Advisors are not affiliated companies.
business financial advisor Orange County
Standing Oak Advisors
714-451-8216
1440 North Harbor Blvd.
Fullerton
CA
92835
View Larger Map
We welcome your comments!